Hello Creatives in this series I will be providing monthly updates on my progress selling my Merch designs online. I have created a couple posts on how to get started selling on Teespring and Amazon. I will go over my sales/royalties from those sales and how I am building my business.
You hear about entrepreneurs who make a living from their side hustles. Following blogs like Hustle hacks and Making cents of Money are just two examples of such inspirations that shows that it is possible. It is up to you to remain focused and research as much as possible to successfully make the extra money with your side hustles.
Currently, I am selling on several platforms including
Teespring
Sunfrog
Merch by Amazon
Redbubble
Society6
Here are my sales for September
Sales September 1th-30th
2017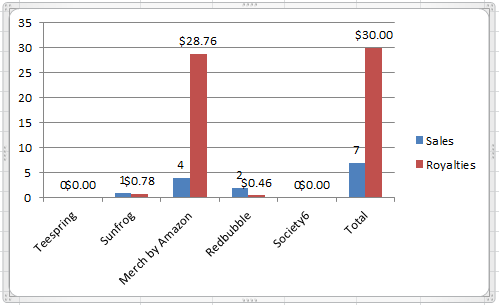 ---
Top Selling Product(s) September 2017 
Merch by Amazon
4 Sales

What steps am I taking?
First off there are several ways to start up a merch or t-shirt business. Understanding your goals will help you know where you want to take the business. For now, I will cover selling Merch online since this is my method currently. Below are the steps I took so I could begin selling online.
Find and research your niche/audience
Research t-shirts online within your niche
Find a platform that works for you
Create t-shirt designs and upload them
Promote your t-shirts
Find and research your niche/audience
Finding a niche and an audience to sell to is your first step. You will soon learn that constantly creating random designs is not always the way to go. There are many ways to research what would be a good audience to sell to. In my opinion, finding something you care about or knowledgeable of would be the best place to start.
Example: I did some thinking and I chose to start creating Whiskey shirts. I love Whiskey and I found a lot of fun t-shirt online that people would wear. You will also find that most people who drink whiskey are fun and sociable people.
Research merch online within your niche
This step can actually go along with the last step but it's important to research some t-shirt designs online to see what is selling. You would be surprised by some of the designs that sell.
Example: you can literally just go to any site that sells custom tees or other custom merchandise and do a keyword search. You can then look for top-selling merch or look through customer reviews. You can then see the trends and what type of designs are selling.
Create your designs and upload them
Here is the fun part, Now whether you are a designer or not this is where you have to figure out how to create your designs. If you are a designer and have the necessary software then you can just begin jotting down ideas, start creating digital drafts and add that spice that will appeal to your base. If you are not a designer you can still begin to jot down some ideas and you can hand these off to your local Graphic Designer to have them bring your vision to life. Fiverr is a great way to find a designer and have them create your design.
Example: Below is just a couple of examples. I created the Killer Whiskey design myself, while I had a designer help create the Whiskey design. There is no shame in having help. You can have help which allows you to focus more on promoting your designs.
Promoting T-shirts
Once you have created some t-shirts and uploaded them to your platform, now you have to get the world to see it. This is the crucial step so I will break this down using my experience. just because you may think you have a good design if you are not properly promoting your shirts then you will never get the right people to see it.
There are a number of ways you can promote your merch including:
Social media
Landing page on your Website
Paid Ads
Collaboration
Social Media
Currently, I use a number of accounts to promote my links and you can view them below. I also have a landing page for my t-shirt designs on this site here or you can click store in the menu. I streamline my posts (or try to at least) so for instance, whatever I post on Instagram I will post the same to my other accounts.
Twitter: Silencerscales
Instagram: Creativescale / Whiskeymoments
Facebook: Creativescale Designs
Pinterest: Silencerscales
Example: Currently I am building a niche Instagram account that I will post all things Whiskey so follow me if you love Whiskey!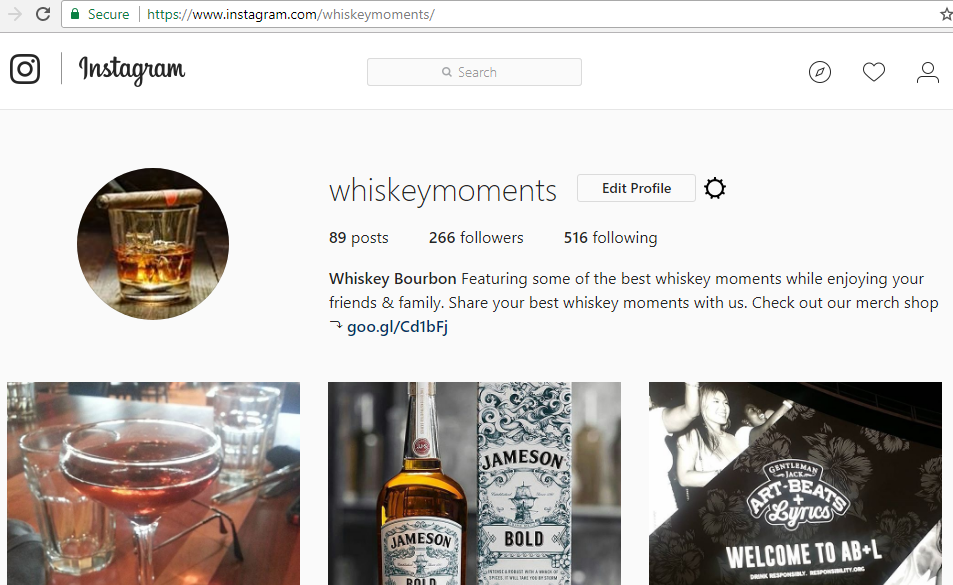 With this account, I post fun, humorous, or just moments involving whiskey that my base can relate to. I make sure to keep my followers engaged by posting content at least 2-3 times. In my bio I have the link, shorten by using Google URL Shortener, to my whiskey merch shop.
It is important to post relevant and interesting content. Most importantly remember to tag your posts. Using Hashtags opens your posts to an international audience. This is how people will find you so be sure to use tags. I wrote a post on Why you should use hashtags in your posts.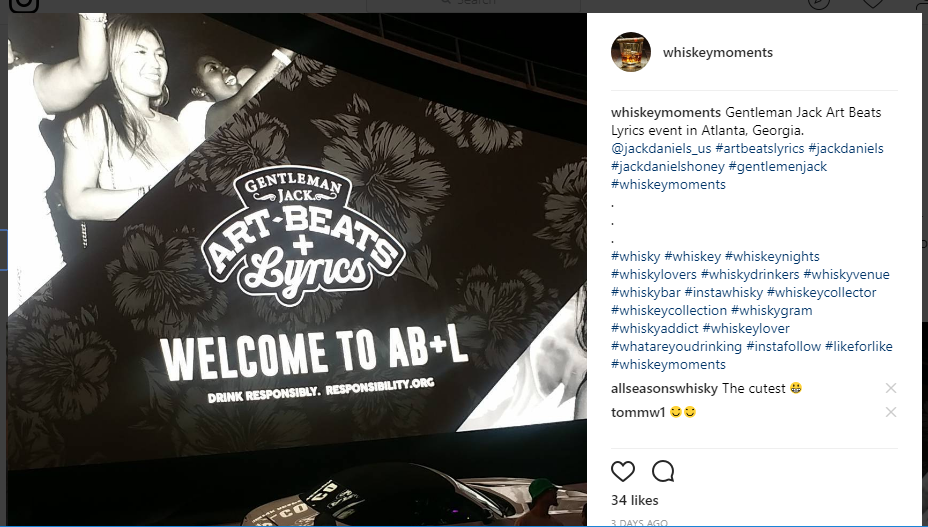 This is an example of one such post of an event I attended sponsored by Gentlemen Jack. As your followers build you will have more people engage with your account.
Each Social Media platform can be used in a similar fashion. Being on multiple platforms can increase your reach just as long as you have the time to create a plan and the software to streamline and automate your posts. I use Crowdfire and Hootsuite to help with my workflow. Never forget though that engagement is also most important so finding a good balance will help with your campaigns
Landing Page
As you see below you can create a landing page with your collection of designs to lead traffic to the page. In my example, I have my collection of Merch by Amazon tees here and also a featured shirt on the side panel. These pictures link to the actual product page. If you were making the shirts yourself or have a means to send the order via a third-party then you could create a pre-order product page using e-commerce software.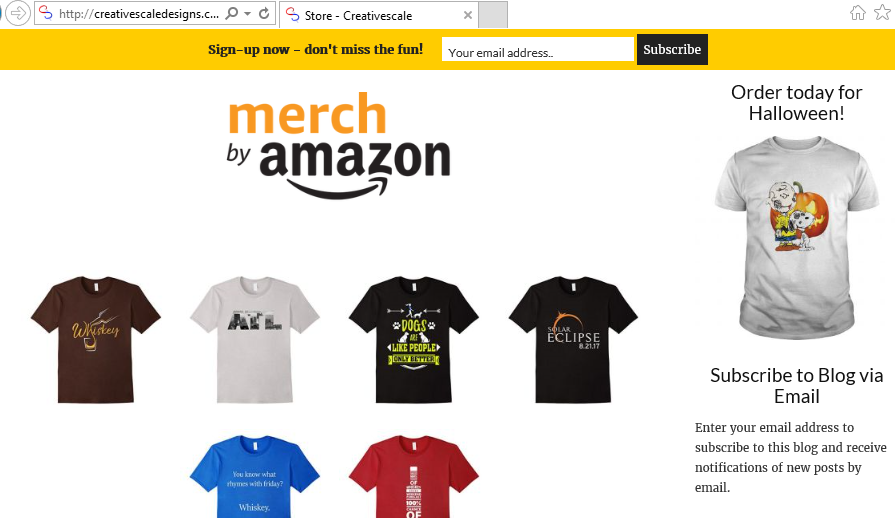 Paid Ads
Paid ads are a good way to utilize your social media platform to run sponsored ads for you. Just about every major platform you can think of has a tool to run ad campaigns to maximize your reach and conversions based on what type of campaign you are running and the audience you want to reach. Facebook is a great way to get started using paid ads and you can set your own budget.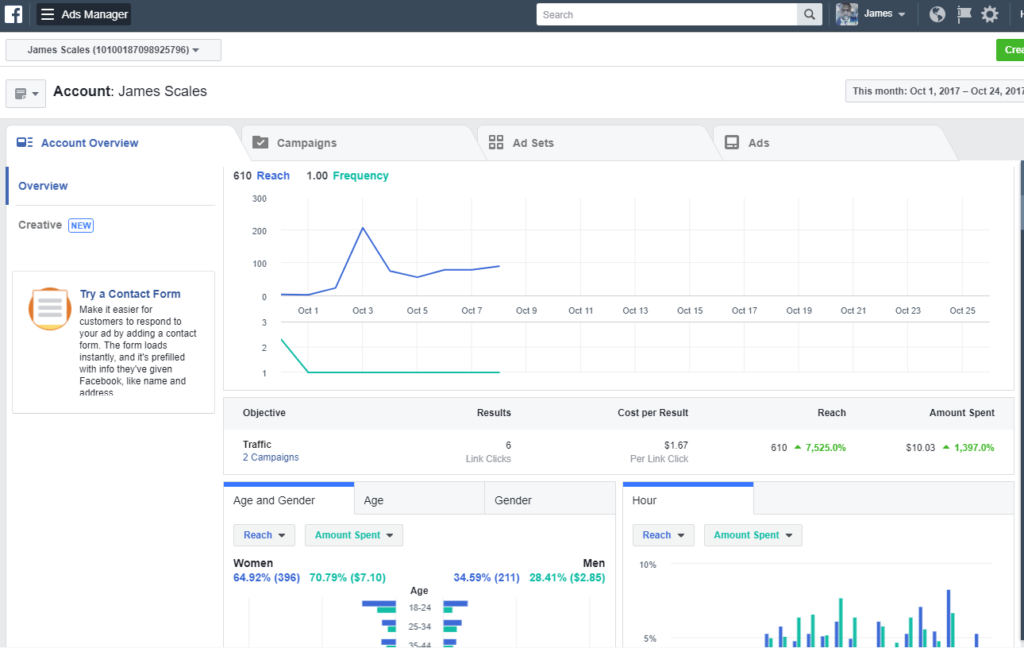 I have run a campaign recently made a few sales with only a $10 budget. You can view insightful data while running your ads to understand how your audience responds to your ads. This will help in making the best decisions for your ads in the future. So if you have a campaign that has been successful without ads, it may be a good idea to invest in running ads to maximize your profit.
Collaboration
Networking is very important when running your business. Finding partners that can boost your designs can definitely help in maximizing your reach. You can have somebody model your design to drive traffic to your merch. You can also collaborate with an established business/platform to increase your traffic.
One great platform you can use is Pinterest. If you are not familiar with Pinterest, this platform allows you to Pin ideas, inspiration, and resources on boards that you can revisit anytime. You can collaborate with other pinners by establishing group boards. So by having multiple people pinning relevant content, you can increase your reach.
Conclusion
In conclusion, I do have a long way to go however I know I am off to a good start. I will be providing an update each month from now on. Do you have an online business? How do you promote your business?
Also be sure to check out the shop!