The are many online software tools a content creator can use to create graphics for their brand. Crello is one such online designer that is simple to use and has many templates to get you started on your way. Now if you have used Canva you will see this new design tool is very similar to this tool. You will see the concept and design interface are very pretty much the same.
There are also many other options to choose including DesignBold, Stencil, and Snappa. Being the new tool on the block it will be interesting to see the improvements coming in the future. With that being said let's go over the interface to give you an overview of what to expect from Crello.
What is Crello?
Crello is a graphic design tool made simple for users create graphics by choosing a number of templates and customizing these templates. Created by Depositphotos, a stock photography company. You have backgrounds, fonts, borders, photos, icons, etc at your disposal provided by Crello. Crello has 60 million assets to choose from, free and paid. The paid assets are .99 cents. The tool currently has 31 templates to choose from or you can enter your own dimensions for a custom template.
Sign Up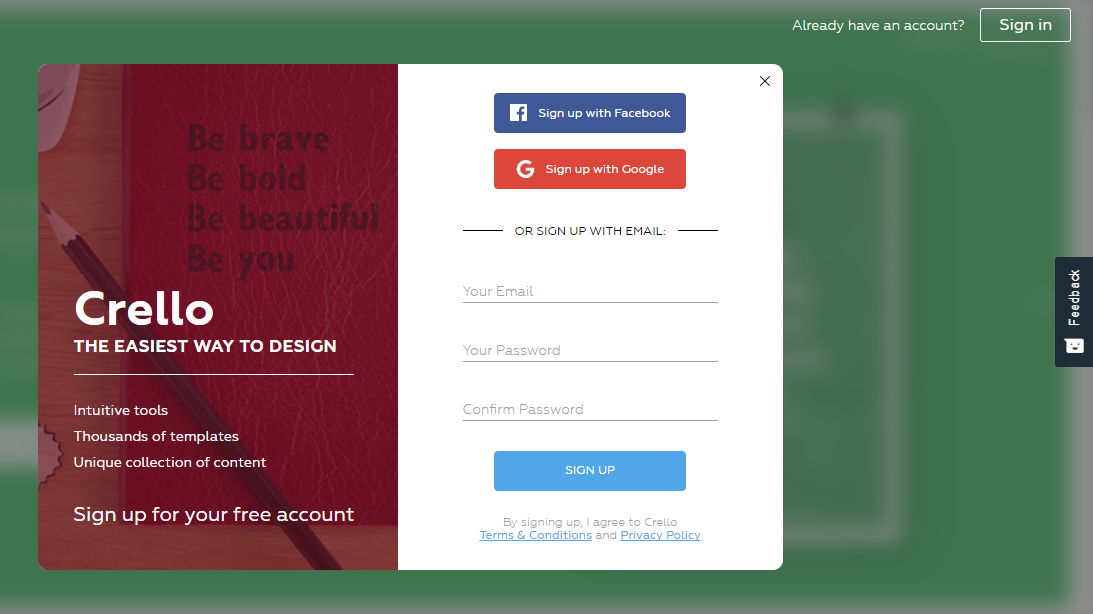 Signing up is simple, you can enter your own email and password or you can sign in with your Facebook or Google accounts. I chose to sign into Crello using my google account. Now you are in and ready to start creating.
Dashboard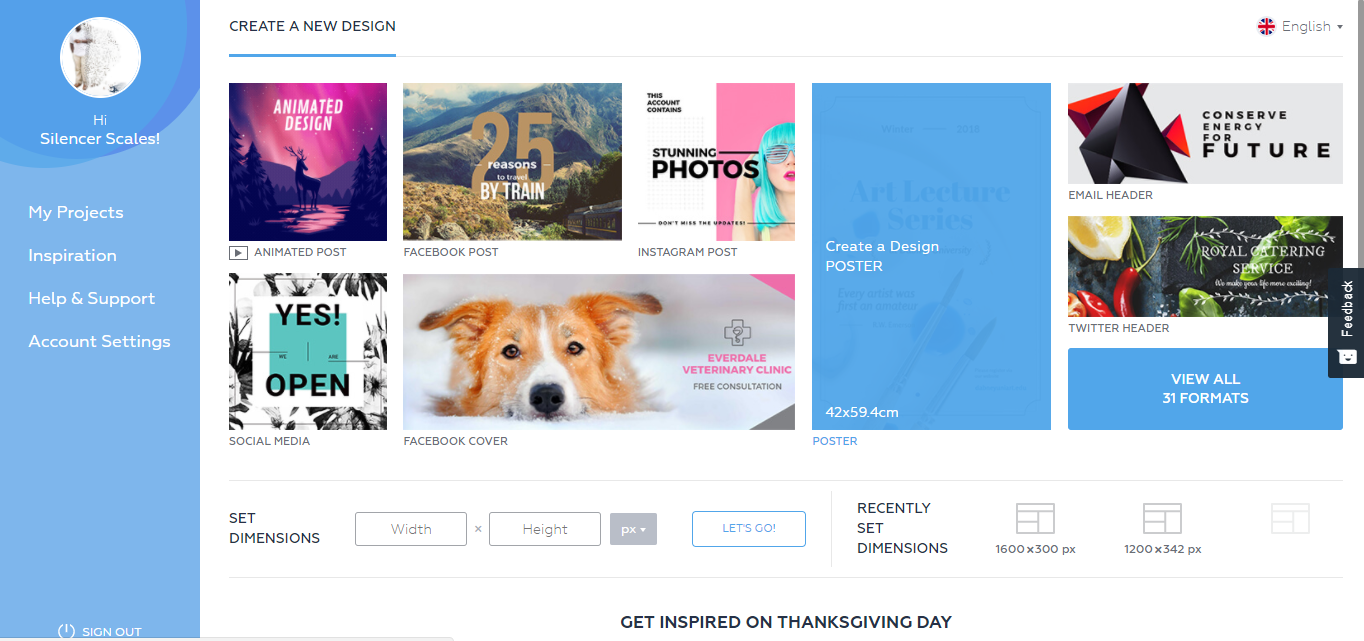 After signing up you will be taken to the dashboard. You have several options on your left side or you can start selecting your template. Let's briefly go over the options on the left pane.
My Projects
You can view your previous projects here and start back editing a design. You can create a folder to organize your design on Crello's cloud storage. If you have some projects you do not need then you can trash them by hovering over and selecting the trash symbol. Select the Trash option to view your deleted designs.
Inspiration
This option lets you see some designs created for your inspiration. At the time of this post, it is Thanksgiving so Crello provided a number of designs you can start off with for your design. There are a number of other categories to choose from here as well.
Help & Support
Here you find legal documentation for Crello and where you will contact customer support.
Account Settings
Configure your account settings here. Right now you only have a few simple options and updating your billing information.
Create A Design
Now, let's start creating your design by selecting your template. Choose from the various templates based on where you project goals. For example, if you need to create a graphic for your Instagram account Crello has a template with dimensions needed for this goal. If you need a header or banner Crello has several different banners to choose from. You can also choose your own custom dimension at the bottom, you can choose from Pixels, Inches or Centimeters as your units of measure. Let's select the Twitter Post template for this example.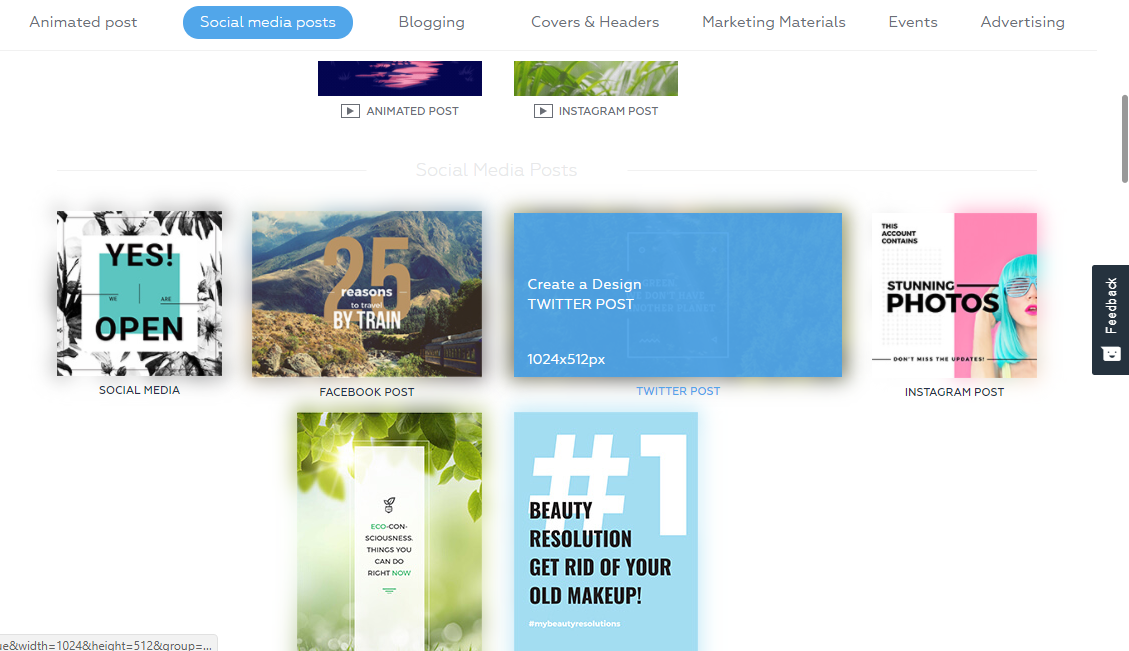 Design Interface
Selecting your template will take you to the design interface. You have various options to choose from. In the top right-hand corner, you can choose the name of your file. By default, the file will be named "Untitled Design." You have your document control options below your graphic. You also have the element control options on top. Lock an element so you won't mistakenly move the element. Select two objects then Group them to move them together. Align a group of objects together if you need a certain alignment accomplished.
You will start with a blank slate but as you see above I have begun searching for a design template. By selecting the Design option you can look through the many preset templates to use for your graphic. You can search through all the categories at once or choose a category like below. Crello has 245+ free design templates you can use. You can also start from scratch with the blank template and build your own design.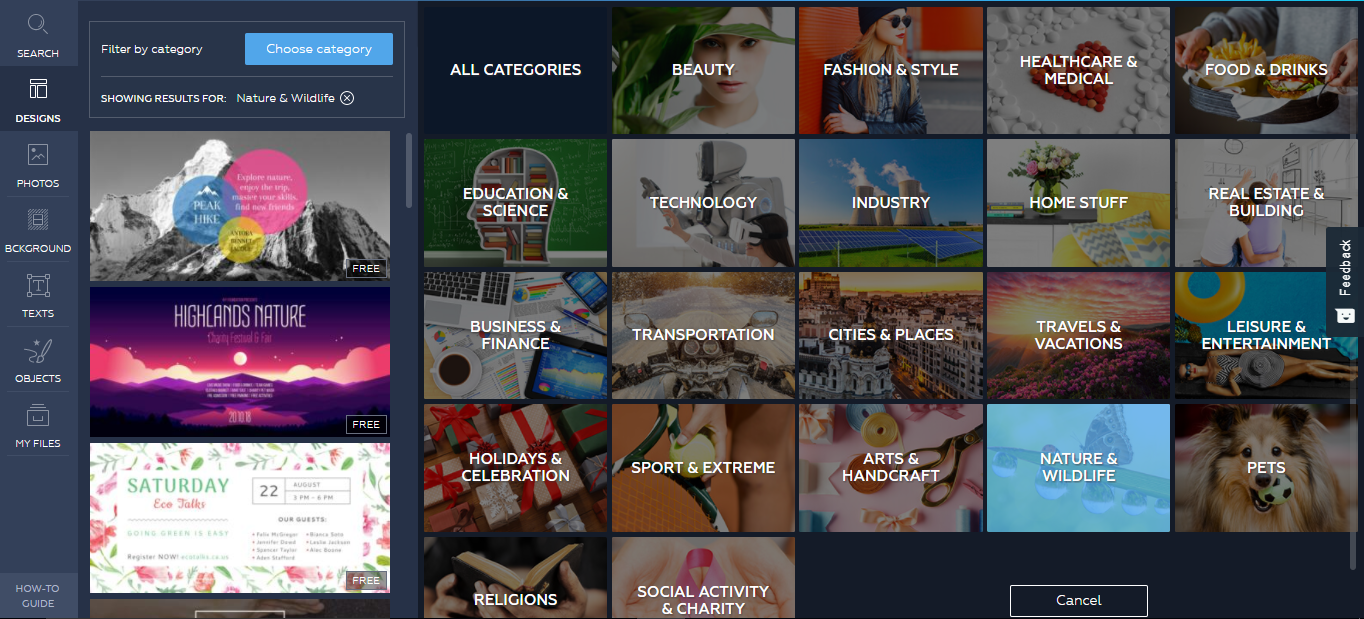 You can edit text by clicking in the text box. You will see a box appear that lets you edit the text using various options. Edit the Text options, Opacity, and Layering of your text. You can also Duplicate the object or Trash it all together. You have the Texts tab to create your own text as well.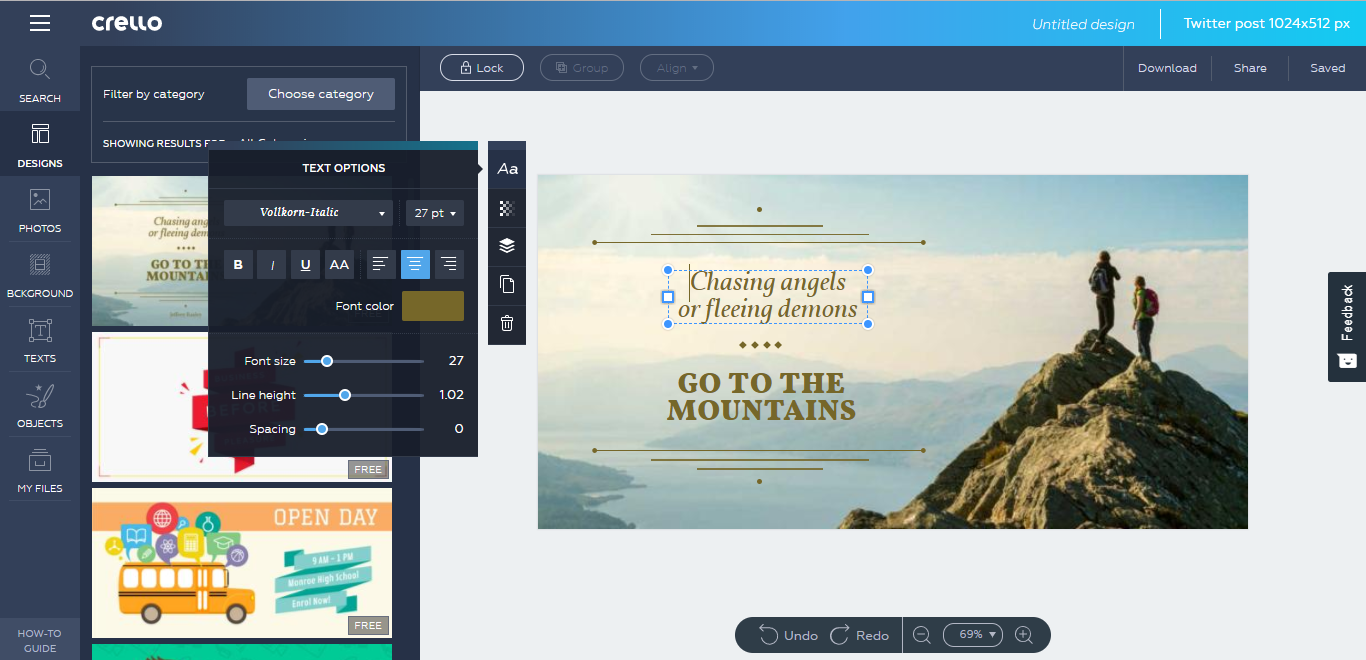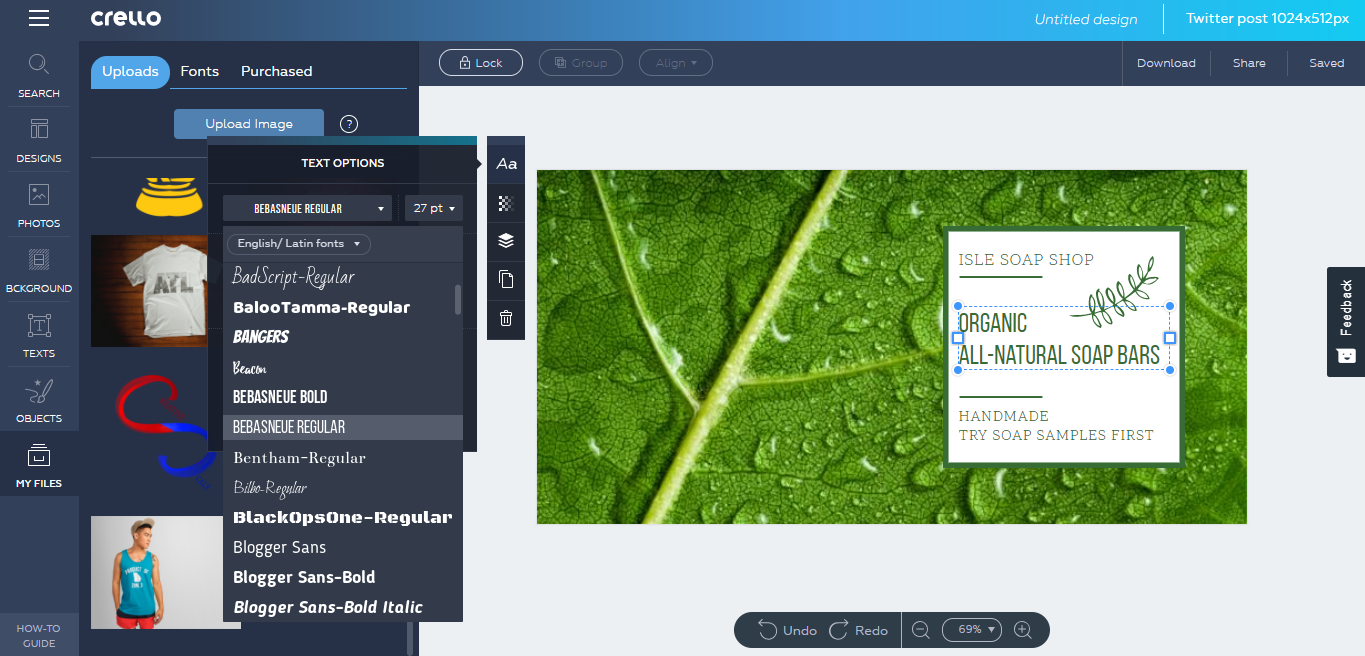 Add Photos to your design by selecting the Photos option. You can view the entire gallery or just opt to view only the Free Photos. You can also use your own Uploads as well. Choose a photo to add to your design and use the options to edit the photo.

Select the backgrounds tab to choose a background for your graphic. Browse through all of the categories or choose a relevant category to find an appropriate background. You can also choose a Photo, Pattern, Color or your own Upload to be your background.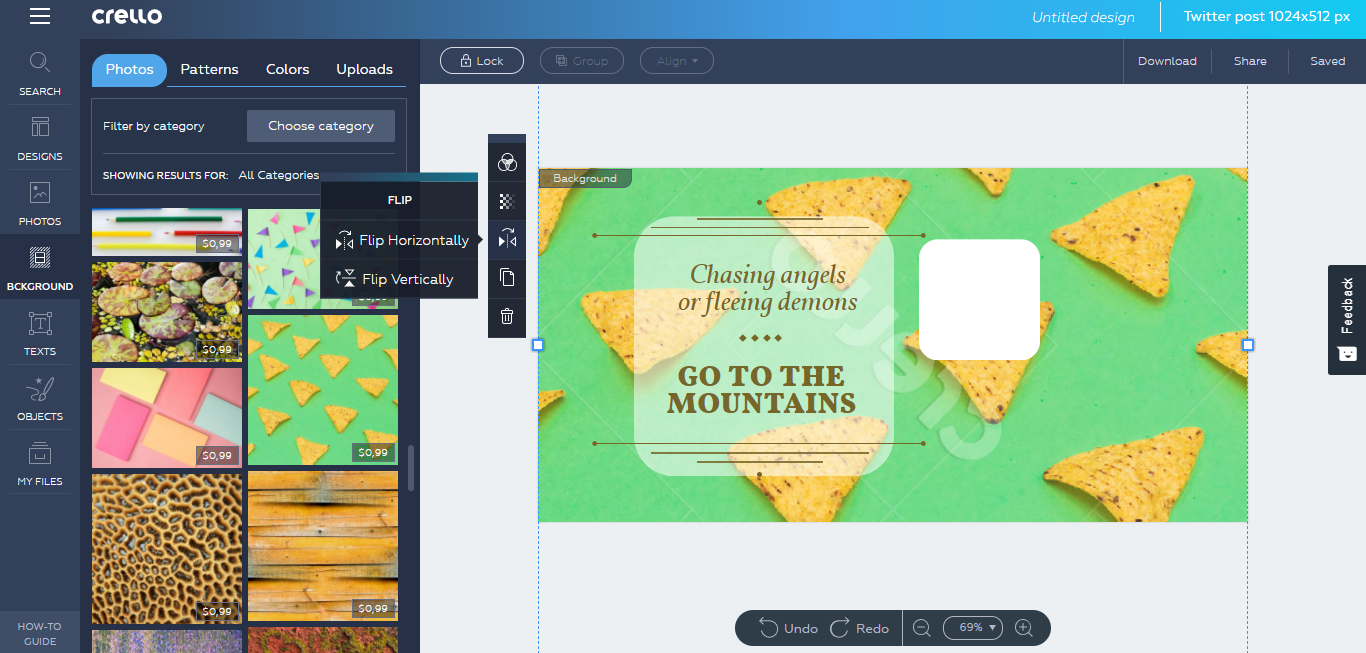 The Objects tab lets you add shapes, icons, stickers, etc. to your design. Select your desired object and use the editing options to edit the object.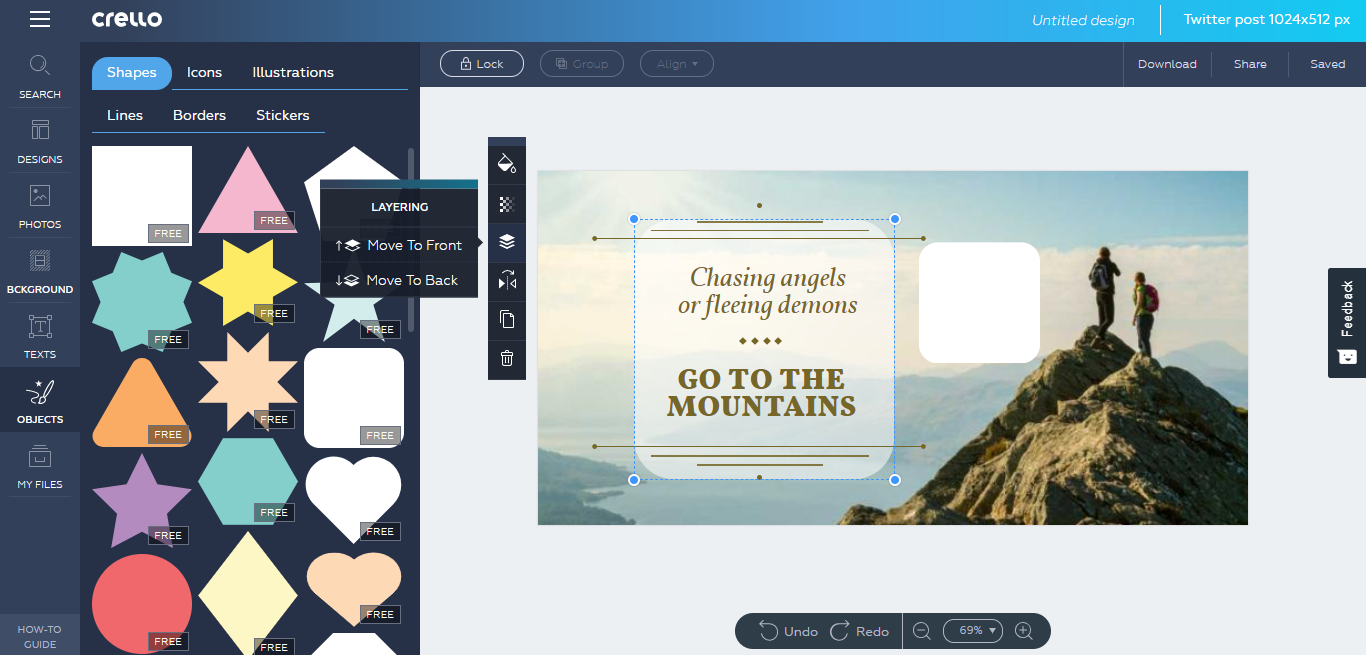 If you have your own photos to upload then go to the My Files option and upload your files to Crello. Edit your uploads with using the same editing tool as the other elements. Your uploads will be saved for later use until you delete them manually

This is a high-level view of your current options. You also have a search option that lets you search through all of Crello's assets using a keyword or phrase. When you are finished it is time to export your design.
Download, Share, Save
In the upper right-hand corner, you have a few options for your graphic. Download to your local computer, Share directly to your social media or save it for later editing.
When you are ready to download you have a few file formats to choose from currently. You can download your file as a JPEG, PNG or PDF file. For PNG you can download a png file with a background or a transparent background. For PDF files you can either download for the web or high quality for print. Once you select your option your download will come to your computer momentarily.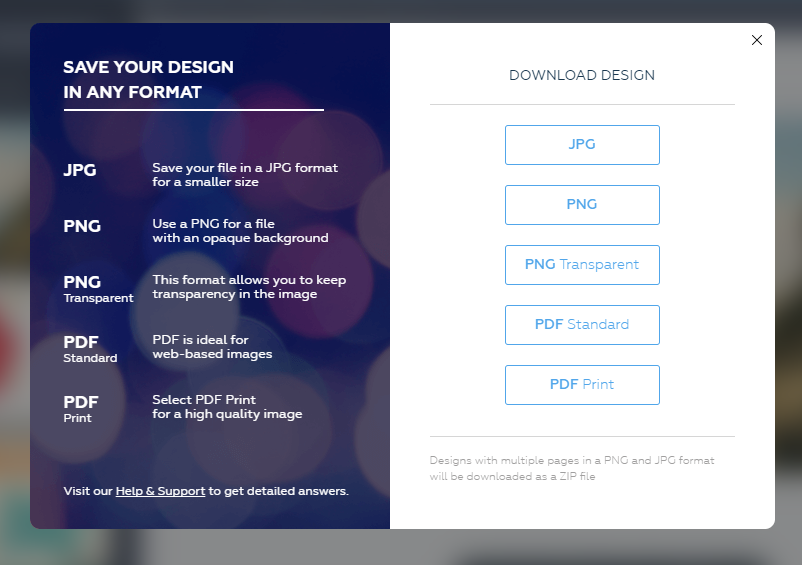 If you want to share it directly to your social media account select the share button and you will be presented with several options. You have most of the popular platforms you can share at your disposal.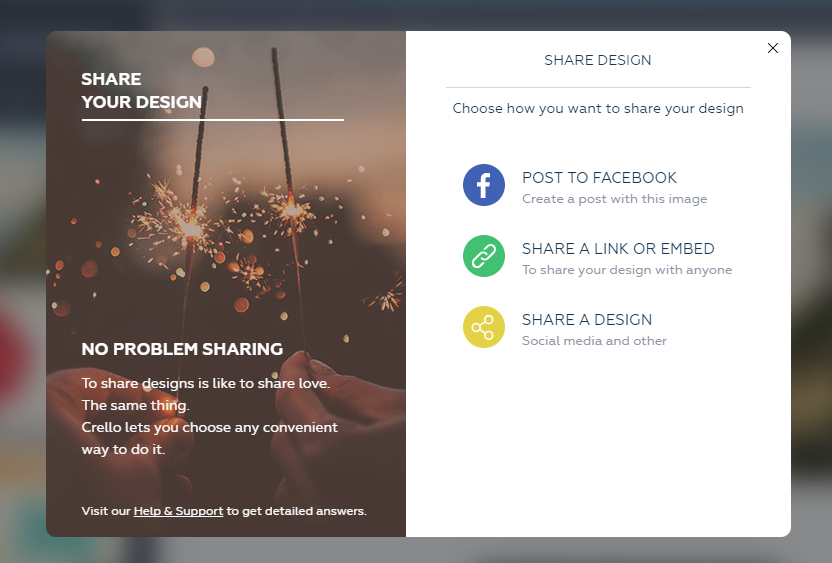 Select the Save option if you want to save the design for a later time. You can then access the design in the My Design option on the left pane.
Conclusion
Crello does not have as many options as its competitors but it is a pretty solid program for now. This is worth checking out and if you are willing to shell out a few bucks you will have access to of Crello's assets. We will see how it holds up against the competition in the years to come.
What do you think about Crello? What design tool do you like to use? Leave your comments below.