As I am continuing my side hustle as a graphic designer I found there is also a need to make some extra money on the side while I am picking up business. I signed up to be an Uber driver last month to help offset some the extra bills that have come up recently and this will be the starting point to help pay off my debt.
I usually drive on the weekends and on some evenings after work. Currently, I only do Uber deliveries aka UberEats. I personally am not too fond of picking up strangers in my own vehicle so I chose to deliver food to a stranger's home. In this post, I will go over some of my experiences and ways you can promote your business while driving for Uber.
Signing up with Uber
If you live under a rock and not familiar with Uber, Uber is transportation company that allows users to requests rides and citizens to drive the requesters to their destination. Uber also allows drivers to deliver food to their homes.
Driving with Uber is a good way to make some extra money on the side while working your own hours. Whatever time you put in is what you get out. It's easy to sign up, you can use my referral link by clicking here. The link will take you to the signup screen. After you go through this process you will have to perform so many trips you can earn $125. You can provide your referral link to receive up to $150.

When you sign up you will complete a simple application. Afterwards, you will have to provide your vehicle insurance, driver license, and vehicle information(Make, Model). Have your camera phone ready and take a clear photo of your Insurance and Drivers Licence. You will also need to provide tax and banking information. Once you have filled out this information Uber will process your information which should take 5-7 business days.
Once you are approved and you have updated your profile you can get started. If you just want to do deliveries like I am and you do not see the option contact customer support and request to have this option added.
Driving with Uber
I have been driving with Uber for about 3months now and it's pretty cool. Turn on your location, fire up the app and go online. I have been taking up on 12 trips throughout the week. I earned up to $105.25 in a few days doing 12 trips. Of course, this will be different for you depending on your location. Doing deliveries varies and Uber breaks down your earning to let you know how you earn your money. You have a Pickup fee, Dropoff fee and the Distance you traveled that is tallied up for your Earnings for that trip. I have added a screenshot of one of my deliveries. Fees and distance rates will differ depending on what type of vehicle you deliver with and the city you're delivering in.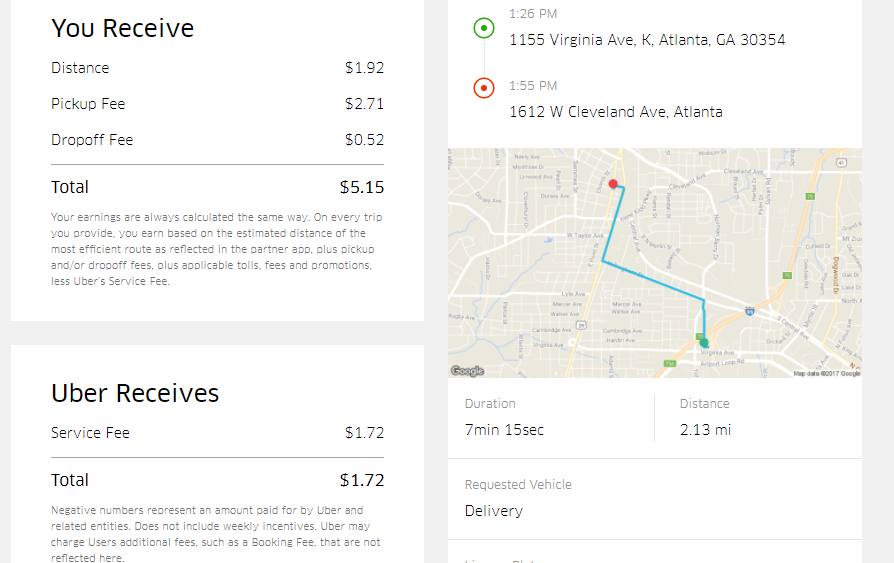 Doing the UberEats option does limit the number of requests you receive. With the number of drivers on the road, you pretty much have to be in the right place at the right time. Ensure you are around an area with a lot of restaurants and sit until you get a hit.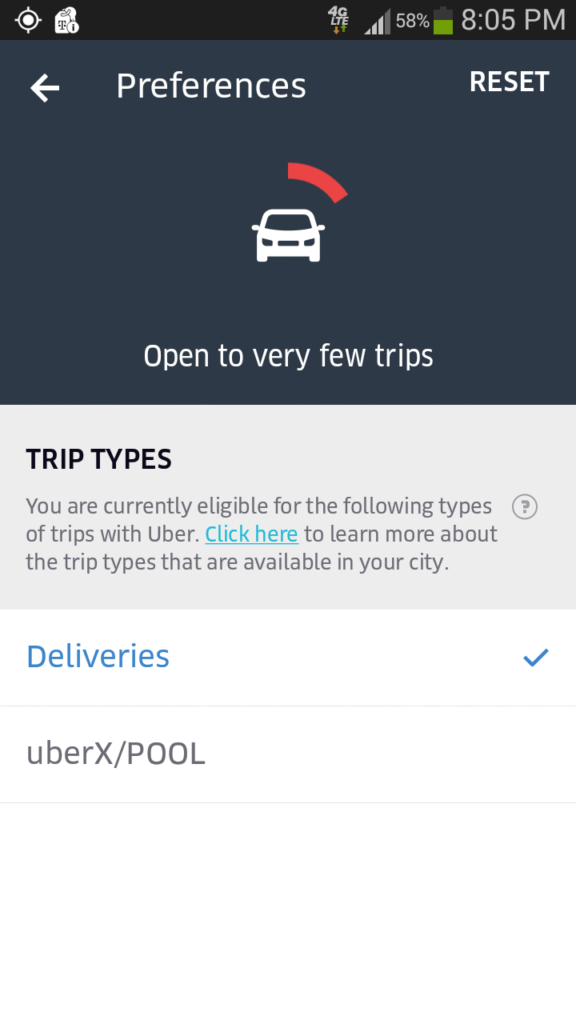 You can also look out for notifications from Uber on the high demand areas and Boost opportunities. Boosts are areas where demand will be high and if you take a delivery in the designated area you will get an added percentage of that delivery to your earnings. For example, you can get an extra 1.5 % of that order added to your earnings. Leveraging this feature and your knowledge of the city can net you more money faster.
How to promote your business through Uber
Since Uber connects you directly with people why not use this time to promote your hustle. This is the best time to pick up a potential client and doing so professionally can earn your rider's loyalty. Scope out your customer to be sure they fit your target audience. Be sure to have your "elevator pitch" ready and do not be discouraged if you don't make the sale. Below are just some ways that you can increase your reach while earning some extra money.
Conversations with your customer
Working directly with customers you may have the opportunity to have a quick conversation. You don't have to try to force a conversation with everybody, just let the conversation happen organically and pitch when it is time. Remember time is of the essence, close out the delivery and go offline if the conversation goes further. If you have another request after then do not delay that request.
Give your business card to the customer
When you pick up the order drop your business card in the bag. This can get your business out to as many people as possible. When having a conversation with the customer is not an option then this can possibly open the door to another potential client.
Conversations with the business
You may come in contact with influencers or establishments during your deliveries. Connecting with them causally can prove to help you grow your business. Ask about any upcoming events that you could play a part in to get your foot in the door.
Give away a sample of your product
If you have samples of your product that you can give on the fly this would be a great opportunity to pitch the value you can bring. You can also sport a product or design that will catch someone's eye. Think of fun competitive ways to give away your products.
Practice your material
Practice your upcoming show material with the riders. Have something ready for your rider to critique and invite them to your upcoming show.
Uber can be another avenue to increase your income and help pay off debt. This can also be a way to boost your brand as long as you are friendly and professional with it. Forcing your business down someone's throat can cause the customer to rate you badly. Ratings matter to the customer and Uber overall. Maximize your reach while you are driving in the streets. Are you an Uber driver and tried these methods? Do you have another method you have tried?
Need a free ride up to $15? Try Uber with my invite code Jamess3827 or click the link here