Welcome to December 2017's Merch Sales Report. Here I will show you the t-shirt/merch sales I have made in December and the revenue I am rewarded for the sales. If you are looking to start selling your own designs online I have created a couple posts on how to get started selling on Teespring and Amazon.
I publish this series for a number of reasons if you are wondering why. I genuinely love helping and inspiring people! Below are the reasons why I started publishing my monthly sales report. If you already read these in my previous post you can skip this part.
I never knew you could sell your designs online t-shirts online and especially how profitable it can be. Expressing yourself through a t-shirt is a great conversation starter. It is also a way to collaborate with others at an event. I am hoping with my journey in selling my designs I can inspire someone else to get up, get out and go get it! Whatever your hustle you have to start from somewhere.
Like me once I found out you can sell your designs online I needed to know what would be the best way to do it. Many people have different strategies. I have been hitting the right buttons so far and researching how to continue forward. With my reports, you can see what I do and we can help each other make it to the top.
Lastly, I can look back at these reports and learn from my mistakes and continue to keep myself accountable.
I started this series September of this year and you can check out my first Merch sales report here Merch Update Series: My Merch Sales September 2017 Update.  Progress is slow at this time but slow progress is better than no progress. Let's view the report for this month.
Currently, I am selling on the below platforms. I have listed the number of active campaigns I have for each. Just understand a campaign can be different for each platform. For example, Redbubble and Society6 sell more items than Sunfrog and Amazon Merch. You can sell iPhone cases, Stickers, and many other items on Redbubble and Society6. With one design I can create a list of items under this design. In the future, I will keep a more accurate count. I have been experimenting on each of these sites so you will not see all of my designs across all platforms.
Click the icon to view my campaigns
Current number of campaigns:
---
December Sales
Sales December 1st-30th 2017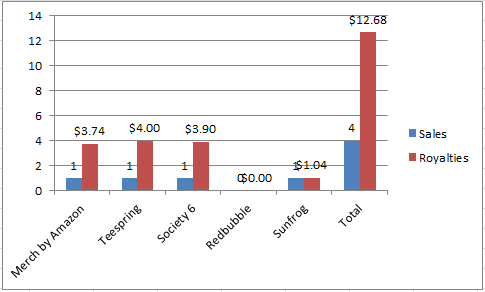 ---
Top Selling Product(s) December 2017
Merch by Amazon
1 Sale(s)
Sunfrog
1 Sale(s)
Teespring
1 Sale(s)
Society6
1 Sale(s)
---
Monthly Report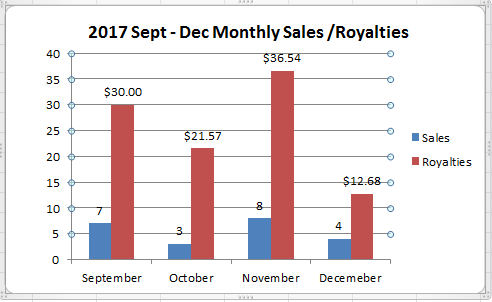 YTD 2017 : $100.79
Here are my stats for December. As you see there was a decrease which is mostly attributed to me not consistently marketing my designs. You can have a great design but without promotion, you cannot expect potential buyers to see them.
2017 has been the year of learning what works and what doesn't when it comes to creating designs and marketing them. With this knowledge, I am able to make wiser more insightful decisions. You can review the lessons I have learned and can be helpful for anyone looking to sell online. You can view them below.
Lessons Learned
These past couple of months I have focused on updating and fixing issues on my blog/website. With this, I had to place promoting my shirts on the back-burner. I am also working on a more solid plan to post to all of my accounts to increase engagement. The below Action items from last month are still in motion as well.
As you see this month is lacking, and I have listed what I feel are the reason why.
Lack of consistent promotion
Research designs to improve current campaigns
Descriptions – Keyword Research
Collaboration
Other projects
Understanding how to monetize my social media accounts with me focusing on Instagram is also a key focus of mine. Selling online is a numbers game. Building my accounts through great photos and engaging content will be crucial to getting sales. Here are some ideas you can use yourself to get followers involved with your account:
Contests/Free Giveaways
Host a contest online periodically and have your followers use a hashtag to track the contest. Give away one of your products or something someone can use to improve their life.
Hashtag Discussions
Host a discussion and get your followers involved. Use a hashtag to track responses.
Interact with others content
Not only like a photo, comment below! This will mean the world to them and hopefully, you both can connect in the future.
The Bottom Line Is…
If you are looking to start selling custom apparel online or startup any business for that matter…
JUST DO IT!
Research your niche, Create a plan, and Execute! We are in a new year a fresh start and it is time to start with a  fresh mindset. The only limitations are the ones you place upon yourself! Success is inevitable as long as you put the time in to achieve it.
Follow my Creative/Niche accounts
Twitter: 
Instagram: 
Facebook: 
Pinterest: 
Do you sell custom apparel online? What are your sales goals for the coming months in 2018?